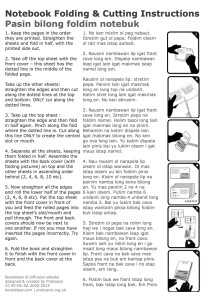 As part of the indigenous public authoring / TEK (traditional environmental & cultural knowledge) project I am working on with anthropologist James Leach in Papua New Guinea we have created a simple 1 page poster of folding instructions for making up bookleteer/diffusion books in English and Tok Pisin. Thanks to Porer Nombo and Rembi Yemui of Reite village, Rai Coast, who helped with the description, translation and localised spelling.
Download it here (A4 670Kb)
Tags: folding instructions · indigenous public authoring · PNG · public authoring · Reite · Tok PisinNo Comments.