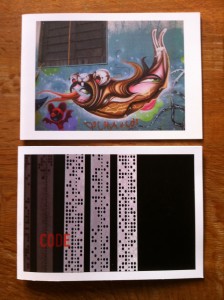 In November's issue 2 of the Periodical we have included two eBooks, Code : Forgetting Bletchley Park by Gair Dunlop and, from our archive of previously printed projects, Towards an Anarchaeology of Belo Horizonte : Street Art 2 – which I made as part of my contribution to the ArteMov Festival in Belo Horizonte, Brazil in November 2009. Click on the links to find out more about each one, read them online or download, print out and make up your own copies.
*** For salty beachcombers of the creative flotsam and jetsam cast up on bookleteer – Subscribe to receive exciting and fabulous publications through the post each month ***
Tags: anarchaeology · Bletchley Park · Gair Dunlop · Giles Lane · the periodicalNo Comments.